Date:
7/24/2022
Players:
Rob, John (Virtual), Kelbs, Campo
XP:
300 - for the Ksarik
Credits:
0
Notes:
I was able to rest up and heal up, only to fail my sun/heat check. Currently fatigued and hot. The obelisk reveals: "You are approaching Loskialua, Monastery of Starsong, Embassy of the Spheres, and Temple of the Twelve." Tree, Wynter, and I were unable to decode any other phrases.
Thought of trying to blow up the obelisk, but it was too big to do so.
Failed to get a buff for the day. Got hit in the back of the head with a rock. Continuing to move forward. The path opens up to a 100 ft visibility. No one seems to have been around here before. We are now exhausted and fatigued. Tree gets some

in the face! The Goblin escaped the poop to the face.
We have now rested. Goblin and I stay awake to watch. While Wynter, R1CK and Tree attempt a full rest. Goblin and I noticed the monkeys are trying to break a branch above Wynter. Goblin takes a shot and hits one on the shoulder. I throw a grenade and blew up a monkey and sent the branch down on Wynter's tent.

The monkeys are scared of our shock and awe campaign.
We rested and started up again. Goblin saw a colorful animal with tentacles on it's face. Goblin screamed like a child and then it disappeared. Then I saw it. Same thing; it ran away it. Another heat stroke check; another failure.
Ksarik - the colorful creature shot

at Wynter and he got poisoned!
After a scaring it off we went by a waterfall and said, piss off! and then went on! It's so

. More marching; it's back! We are shooting back at it! One gets me in the arm with a stupid needle dart thing.
…
Then, for no apparent reason, Goblin shot Wynter in the nuts.

Then a stickybomb was thrown, acrobats were done. Exhaustion and fatigue. Some of them feel a little weird.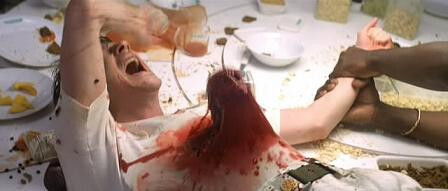 A large clearing was found; about 200' round. A long rest ensues. R1CK gets another dart stuck into his forcefield.
Moving on; another day. The goblin is in such bad shape, the Tree is carrying him. Wynter has two "infections."
The creature appears; terrorizes us and then moves on! DAMMIT.
Suddenly: a person crying for help! We run (well, hobble) to a clearing. The sun!

We see a Lushunta woman on the ground, severely hurt. Ah! Stung by that stupid Ksarik beast! I feel funny. It squirts acid. I swing. I miss. Goblin runs like a little child. I am bitten. I hurt. Goblin grows some courage makes a shot; it hits! After a few times it resolves to continue to live! After we continue to hack and slash it; it's

!!
Lashunta woman was part of the Cult of the Devourer. The Stargazer is up the way a bit. @azh10 really meant 3 days away. Wynter gave me a healing serum. Back on the road…